Bryon Russell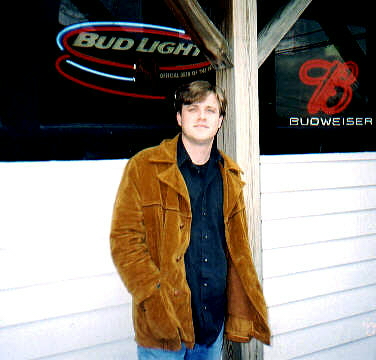 Alabama native Bryon Russell is an excellent artist
whose music is showcased on "Signs Of The Times",
the second release in our Singer/Songwriter Series .
Bryon's down-to-earth style is an original mixture of
Americana, country and folk, with a bit of southern
rock flavoring. While influenced by artists including
Gram Parsons, Johnny Cash and the Allman Bros.,
Russell has developed a sound all his own. A fine
singer and writer, he plays guitar, bass, piano and
harmonica, and has performed "all over the south",
both as a solo act and with a band. He also comes
up from Alabama from time to time to perform at
our monthly Oat showcase here in Nashville. You
can hear a sample clip of Bryon's music below...
and to order "Signs Of The Times", click here.
click on link below to listen to an MP3 music clip
Signs Of The Times
~ BRYON RUSSELL
1. Jefferson (B. Russell)
2. Club 312 (B. Russell)
3. We Must Fall (B. Russell)
4. Daddy's Pistol (B. Russell)
~ GLENN FRENCH
1. Snowblind (G. French)
2. It's No Mystery (G. French)
3. Listen To The Rain (G. French)
4. Hold Your Values (G. French)
~ JAMES BIZZIERI
1. Cry (J. Bizzieri)
2. Dead End Road (J. Bizzieri)
3. Here To Stay (J. Bizzieri)
4. The Bottle (J. Bizzieri)
~ ADRIANNA LARKIN
1. Fire That Flashes (A. Larkin)
2. When She's Lonely (A. Larkin)
3. Little Boy Blues (A. Larkin)
4. Loves Me, Loves Me Not (A. Larkin)
Produced by Steve Haggard
Recorded by Randall Merryman
Mixed by Randall & Steve
for information, contact:
info@wildoatsrecords.com
Featured Artists Multi-Artist CD ReleasesSinger/Songwriter Series