Tribute to rockabilly Hall-Of-Famer Frank "Andy" Starr
died September 12th, 2003
Here's my tribute page to one of the most interesting and special people I've ever known. Frank Starr was one of the original roots rockers, experimenting with the music back when it was all starting to happen in the 50's. He developed a style all his own, and performed all over the world in the years that he actively pursued a music career.

Last year (2002) I had the once-in-a-lifetime experience of actually getting to do some recording with one of my main music heroes. Frank was 69 years old at the time and, if not always as sharp as he was in his 20's, still was totally fun-loving, bigger than life, and super-smart whether the topic was music, politics, philosophy or religion. From those sessions, came the album "Starr Struck", which features Frank Starr, a California band called The Haywoods, and (me) of Gail & The Tricksters.

I was very proud to be the only person Frank ever recorded a duet with, the
rockin' number "Round and Round". We were in the same vocal booth and
shared the same mic for that recording . At the end, Frank turned to me and
said, "Wow, you were great !". (One of the higher points in my life.)

Still to be released on Wild Oats Records is an 11-song CD which will feature
all of the songs Frank recorded at that time, including additional never-before- heard originals. It's hoped that it'll be released by the end of this year (2003).

When he was here in Nashville to do the recording last year, Frank told me that,
in his opinion, labels in music didn't matter; it was whether the music the was alive and exciting and original. "Back when we were first getting into it, we just called it 'Hillbilly'" said Frank.... he didn't care !

But what he was doing WAS something important, something to care about....
and that was: being one of the pioneers, forging music that became "American Music" -- part our roots and our heritage. It was a little blues, a little country, swing, gospel, folk ... and something else, something that was free and wild... something that expressed the spirit of somebody who wasn't afraid to take chances no matter what folks thought. Sure, Frank wasn't very well known, and certainly not the most successful. But in my opinion, he was under-appreciated ... and deserves his place as one of the pioneers of proto rock-n-roll; as a singer, a songwriter and a performer.

Frank "Andy" Starr died in a hospital near his home in Elkins, Arkansas at
7:00 am, September 12th from complications due to pnuemonia.
~ ~ ~ ~ ~
Frank Starr, to me you are unforgettable, may your story and your songs live on forever, I know that's what you wanted.
- Gail Lloyd
About Frank's "checkered past" ...
Frank "Andy" Starr lived a colorful life, spending his childhood growing up under extreme conditions in the Ozarks during the depression, living in hobo camps from the age of 11, and signing up for 2 terms in the Korean war at the age of 17. His career as a singer was also intense and colorful, too. He got signed to the Lin & Cliff Label, which then leased many of the tracks to MGM. These were some of
Frank's best early recordings, and he was soon recording with Elvis Presley's session players at the legendary RCA Studio B in Nashville. Starr even lived up in Alaska for awhile, where he claims he introduced rock 'n' roll music, and would perform strip shows as part of his music act.

I hear tell he broke A LOT of hearts a long the way, got more than a few people REALLY mad at him... reformed, became a preacher for a while, changed religions a few times, ran for President of the United States ( ! ! )... and, who knows what else?? Created a few myth's about himself and probably took some secrets with him, too. I'd call that living a full life.

'course, all that extreme living left it's mark on him, no doubt about it.... not only on his reputation, but his state of mind. By the time I got to know him, he was -at times- pretty shaky... sometimes, prone to panic attacks... and his mind would wander a bit. The doctors said he suffered pretty severely from "post- traumatic-stress syndrome" from his war years. It seems to me that most Mr. Starr's life had been lived on the edge, certainly all his childhood and early adult years; he struck me at the end of his life like someone who was still searching for a way make sense of the world, maybe someone who never really understood what it meant to have a settled existence and peace of mind.

But when he got behind the vocal mic for the first time in years, he quite simply blasted us out
of our "blue suede shoes" there in the booth at Beechwood studios. Like any true artist, Mr. Starr
knew how to tap into the raw and primal source... and we who were there to witness it: session
players, engineer, fans and friends, all loved him for it. Despite "it all" -- that week at the age of 69 --
FRANK "ANDY" STARR TOTALLY ROCKED !!

Well, you can read more about Mr. Starr's life on some other archivist websites. These are just my
own personal feelings and rantings. I hope that you didn't find it a waste of your time, and that you'll
leave this page thinking that Frank "Andy" Starr was one of the coolest of cats.

I also hope all I've said here will help make sense of a poem I've included below. I wrote it with a couple people in mind (Frank Starr being one of them). I think it pertains to a certain type of somewhat dysfunctional, hard-living, hard-drinking, hard-thinking, outcast, artistic type (and Lord knows, there's still a lot of 'em left here on Earth).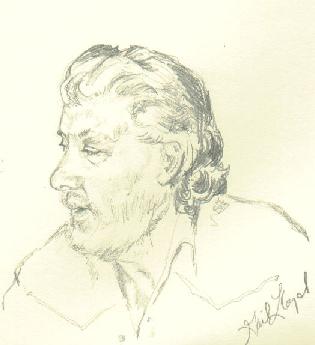 Way-word Soldier
Once knew a soldier, had a way with words
was once the fighting-kind, understand
But came to wage war on a different shore.
here at home instead of some far off land.
There are different types, you know,
out there in the trenches.
Dealing with combat truth to hard truth,
day by day, hand to hand.
They don't often get cast in the hero roles
The way-word ones
So what's this type all about ?
all you have to do is ask
This particular variety of soldier'll get
'round to it sooner or later,
after tellin' you a bunch of other concerns
about everybody else under his watch.
Yeah, so maybe he'll pitch a fit about a few
not measuring up.
But you take all that with a grain of salt
'cause you sense he's been
through some battles you maybe
haven't known… real easy to take all that for granted.
He's the kind of fella makes it easy for you to
treat as small beans. Y'know, the little things
he's likely to do for you, and the others
that - - God know's why - - matter to him
as much maybe as they seem to matter to the rest of us...
Always has a way with words around it all though,
way around, and through
The way-word soldier.
Yeah, will put you at ease and no-never-mind.
' cause he's out there on the outer fringe
keeping an eye on the boarders
keeping careful watch
on most matters most us think of in terms of
"no-matter land".
But what really matters ?
When you've been stripped down,
broken apart & dragged up to face the big "what ?"
That sublime face of God the rest of us
haven't had the misfortune of,
the undoing of, the privilege to…
But that's OK, because when you come
face t face with the STARK FACE
then you know there's nothing that can take
the place of that … wordless,
FACELESS UNKNOWABLE
and ALL you CAN know THEN, is the THE ultimate
FACELESS UNKNOWABLE
and that is ultimately to know
the difference of when others have…
and havn't faced it.
The way-word soldier knows
What is the ultimate price of Humanity ?
and what is the ultimate armor against unbearable
truths learned along the way ?
… but words ? and the knowing.
Once knew a soldier
or thought I did,
along
the
way.
- Gail Lloyd