MARK BRINE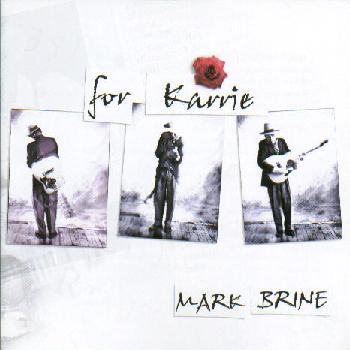 Mark Brine is an utterly original singer, songwriter
and guitarist. His
excellent, very distinctive vocal
style has been called "just this side of squirrelly";
he writes powerful and evocative songs; and he
plays fine acoustic guitar. Based in Baltimore,
Brine has toured in Europe, performed all over
the USA and been a Nashville staff writer. His
music is true American music; strongly rooted
in tradition, but combining several styles and
influences to create something totally unique.
"Brine must be Americana's best kept secret,"
writes deejay/reviewer Eddie Russell, "I am
absolutely knocked out by 'For Karrie' and its
warm stories and beautiful picking." Several of
Mark's CDs, including his brand-new Wild Oats
Records release, Live In A Field Of Bluegrass, and
his three previous Oat CDs can be found on our
CDs & Merchandise page.
The late Roy Acuff on Mark Brine: "I could listen to him
sing all night long."
Live In A Field Of Bluegrass (Wild Oats Records)
1. Back In The Country
2. Dear Jesse
3. New Blue Yodel
4. (You Are) The Light Of The World
5. Wreck On The Highway
6. The Briley Boys
7. Whippin' That Ole T.B. Blues
8. Road Rage Blues (Horatio's Ride)
9. Factory Boy
10. Fortunes
11. Thank God, Thank God
12. California Blues (Blue Yodel #4)
13. Ukulele Yodelin' Blues
14. Fred, The Yodeling Pig

Mark Brine
Album Portraits

For bookings& information, contact: info@markbrine.com