Garry Jackson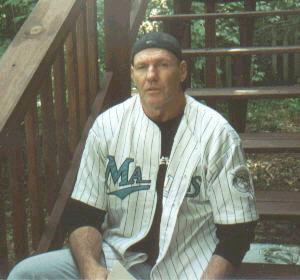 An excellent singer & songwriter from
up in Canada, Garry Jackson was first
featured on "Mighty Above All Things",
the debut CD in our Singer/Songwriter
Series. He then followed that up with
his own full-length Wild Oats Records
album: "Songs Your Mother Never Sang
(Because She Didn't Write Them)". The
latest release from this very talented
artist is "Something's Got A Hold On Me".
It's another really fine piece of work...
we feel it's his best yet. Jackson has a
soaring voice and writes some truly first-
rate material. His songs fall somewhere in
the folk/Americana zone, and boast strong
melodies and thoughtful lyrics. ("My music
is -- if nothing else -- honest", he says,
"and it's written with a certain amount of
intelligence and imagination".) We heartily
agree. Influenced by Bob Dylan, The Beatles,
Jackson Browne, and Van Morrison among many
others, Garry Jackson has definitely forged
his own sound. Give his MP3 clip a listen;
and to buy "Something's Got A Hold On Me",
"Songs Your Mother Never Sang"or "Mighty
Above All Things",just click here.
MP3 clip available below !
Songs Your Mother Never Sang (Wild Oats Records)
1. A Long Way From Wall Street
2. The Winds Of November
3. There's Not Violin (Can Play My Blues)
4. The Night Wind
5. A Mother You Shall Be
6. Nicky's Dream/All The Way To Kalamazoo
7. Baby, Come Take My Hand
8. She'd Be Gone
9. Waiting
All Songs written by Garry Jackson
Produced by Steve Haggard
Recorded by Randall Merryman
Mixed by Randall & Steve
for bookings & information:
jackson_garry@yahoo.ca