David James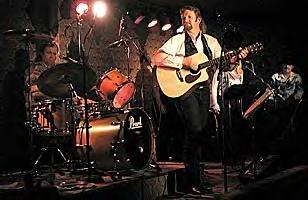 Singer/songwriter David James hails from Texas, where
he has built a loyal fan following and a reputation as an
exciting performer. David was featured on our first "New
Artist Series" CD, Tomorrow The World, and is now back
with an excellent new Wild Oats Records album of his own.
(David James, due in May 2007.) He is an impressive talent
whose music is rooted in Texas-style country, but has wide
appeal. His original song "Texas" (music clip below) won
him 'Song Of The Year' honors from the Lone Star Music
Association, and David earned a standing ovation when he
performed the winning song for an audience of 2500 at the
organization's awards ceremony at Billy Bob's in Ft. Worth.
To buy a copy of the Tomorrow The World CD, click here.
TOMORROW THE WORLD
1. David James: Texas (music clip)
2. David James: With Him
3. David James: Sometimes
4. David James: Just Ain't True
5. Kimberly King: Tennessee
6. Kimberly King: Storm
7. Kimberly King: Angels
8. Kimberly King: Too Bad To Be True
9. Bill Clark: If I'd Known You Felt This Way
10. Bill Clark: Back In The Picture
11. Bill Clark: Rock It Right
12. Bill Clark: The Garden
Produced by Steve Haggard
Recorded by Eric Pittarelli
Mixed by Eric & Steve
For information, contact:
info@wildoatsrecords.com